BPO, which stands for Business Process Outsourcing, is on the rise within Vietnam's contemporary business environment. It offers an excellent approach to outsourcing various services, effectively minimizing operational expenses. These services encompass accounting, human resources, payroll management, corporate taxation, and recruitment outsourcing.
Check Our InCorp Vietnam's Business Process Outsourcing Services in Vietnam
Many businesses in Vietnam find BPO to be a logical choice, as it enables organizations to focus on their primary operations and leverage the expertise and time of professionals in other areas.
What is Business Process Outsourcing (BPO) in Vietnam?
Definitions of Business Process Outsourcing
Business Process Outsourcing (BPO), short for business process outsourcing, refers to the practice of enlisting the services of an external organization to manage specific tasks and operations within your business. These tasks can encompass a wide range of activities, such as website content management, payroll processing, accounting, customer support, social media marketing, and much more. Typically, BPO is utilized to handle secondary or supplementary business functions rather than core operations. BPO services can encompass both technical and non-technical tasks.
Business Process Outsourcing is also often referred to as subcontracting or externalization. While BPO initially had its origins in the outsourcing of manufacturing processes, such as soft drink manufacturers outsourcing segments of their supply chains, it has now broadened its scope to outsource a diverse range of products and services.
What is Business Process Outsourcing used for?
Business Process Outsourcing serves a variety of purposes in aid of business operations:
Back Office Operations: This category encompasses tasks like payment processing, information technology services, quality assurance, accounting, human resources, regulatory compliance, and more. Essentially, it deals with internal processes that are crucial for business functionality.
Front Office Operations: These tasks are customer-facing and include functions like marketing, sales, customer relations, technical support, and addressing grievances. They play a significant role in shaping a company's image and customer interactions.
In practice, organizations often outsource specific functions rather than their entire operations. For instance, a company might opt to outsource only payroll processing within the broader human resources domain. Over time, the BPO industry has significantly expanded its service offerings, providing a wide range of functions and services to meet the diverse needs of organizations.
Different Types of Business Process Outsourcing
Basis vendor location, the BPO industry is classified into three categories:
Offshore Outsourcing: These vendors operate in a different country than the contracting company. For example, a U.S. firm may engage developers situated in India.
Nearshore Outsourcing: These vendors are located in neighboring countries. For instance, a U.S. company might collaborate with an organization in Canada or Mexico.
Onshore Outsourcing: Also called domestic outsourcing, vendors are within the home country of the contracting company, although they may be situated in different states or cities. For instance, if a company in Jacksonville, Florida, partners with vendors in North or South Carolina, it's considered onshore outsourcing.
Basis the services provided, the BPO industry is classified as follows:
Knowledge Process Outsourcing (KPO): Here, service providers not only execute specific business functions but also offer their expertise in these areas.
Legal Process Outsourcing (LPO): This is a specialized form of KPO that pertains to legal services such as drafting legal documents and providing legal counsel.
Research Process Outsourcing (RPO): Another subset of KPO, RPO is tailored for research and analysis tasks. Industries like marketing, biotechnology, and investment frequently utilize RPO for market research and analysis.
Benefits of Business Process Outsourcing (BPO)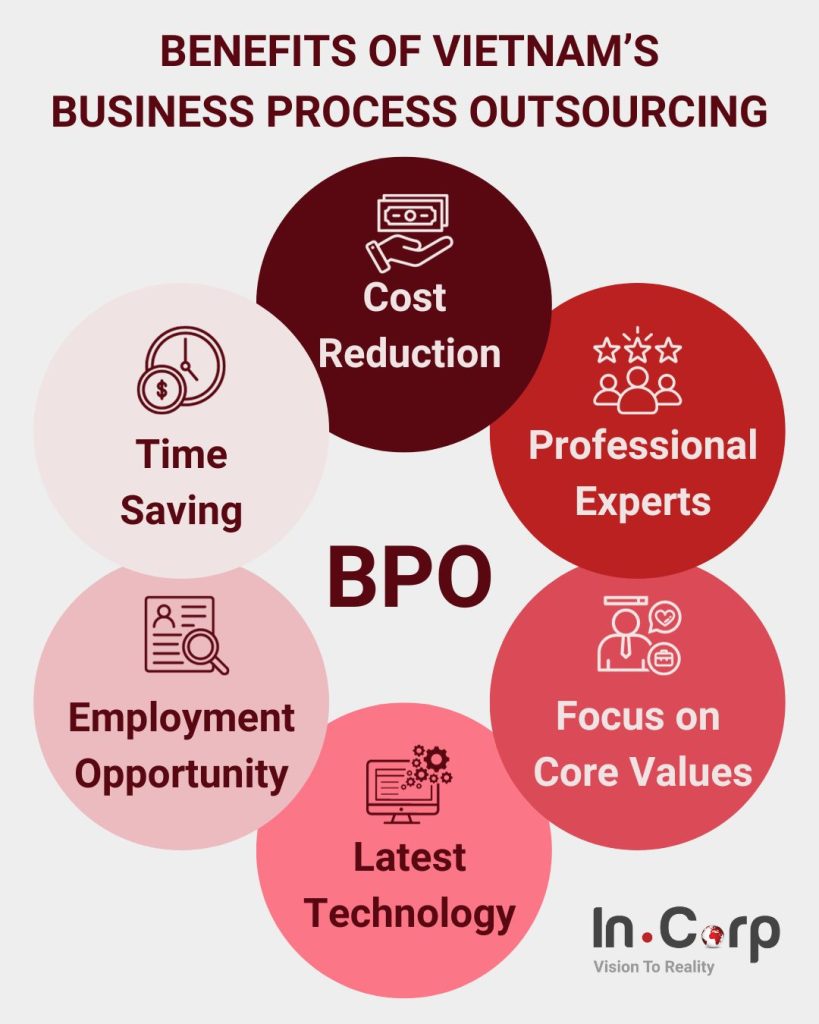 Cost-Saving
Engaging in BPO for select business processes can significantly reduce costs for the client company. This approach eliminates the need for substantial investments in fixed assets and fixed expenses. Rather than purchasing IT equipment and expanding their workforce to manage various tasks, they have the option to outsource these responsibilities to a service provider.
Outsourcing helps in cutting labor expenses, especially in terms of staffing and training. It also minimizes expenditures related to office space, as there's no need to allocate space for in-house employees. Consequently, these funds can be reallocated towards their primary operations. Additionally, businesses can adopt variable cost models instead of fixed cost models associated with in-house staff.
Time-Saving and Focus More on Core Business
BPOs excel in expediting outsourced business processes, which is especially valuable for customer service operations. Their prompt response times allow client companies to concentrate on their core functions. For many businesses, especially startups, managing auxiliary tasks can be challenging. By delegating non-core processes to a BPO, organizations gain additional time to dedicate to their primary business activities.
Outsourcing allows companies to allocate their resources to their core business functions, alleviating concerns about tasks like bookkeeping and accounting. This shift in focus enables them to concentrate on activities that distinguish them from competitors, fostering business growth. Such efforts enhance the company's competitive edge and optimize operations throughout the value chain. Prioritizing core business functions not only heightens customer satisfaction but also bolsters profitability.
Experienced Experts
Outsourcing to a BPO guarantees top-notch services delivered by highly skilled professionals. When you entrust tasks like supply chain management to them, you can be confident that experts in the field, such as seasoned supply chain managers, will handle your operations. This expertise extends to various domains like IT services and accounting as well.
When collaborating with an outsourcing entity, you're engaging with specialists in that specific field. While it might not be your core function, it's the primary focus for the outsourcing firm. They dedicate their resources and invest in cutting-edge technology tailored to their core offerings.
For instance, graphic design agencies have access to top-notch design technology, and payroll firms provide state-of-the-art payroll solutions. This allows them to consistently deliver exceptional results for their clients. As a client, you benefit from the best-in-class expertise spanning various industries, all without the need to invest in the tools and software independently.
Latest Updates Technology
BPO firms bring extensive experience across various domains, delivering top-tier performance. They consistently implement best practices and leverage cutting-edge technology. Consequently, this leads to heightened efficiency and enhanced productivity. By outsourcing tasks, organizations entrust specialists to manage them. This not only saves time but also boosts overall capacity and accuracy.
For instance, a BPO specializing in web design and search engine optimization (SEO) ensures a local company's website is developed using the latest technology, adhering to best practices, and catering to customer preferences. The local company no longer needs to worry about generating leads; that's the outsourcing firm's responsibility.
This strategic move allows the local company to handle an increased volume of leads and website traffic, surpassing what they could manage if they were also responsible for web design and SEO tasks.
Best Practices for Having a Successful Business Process Outsourcing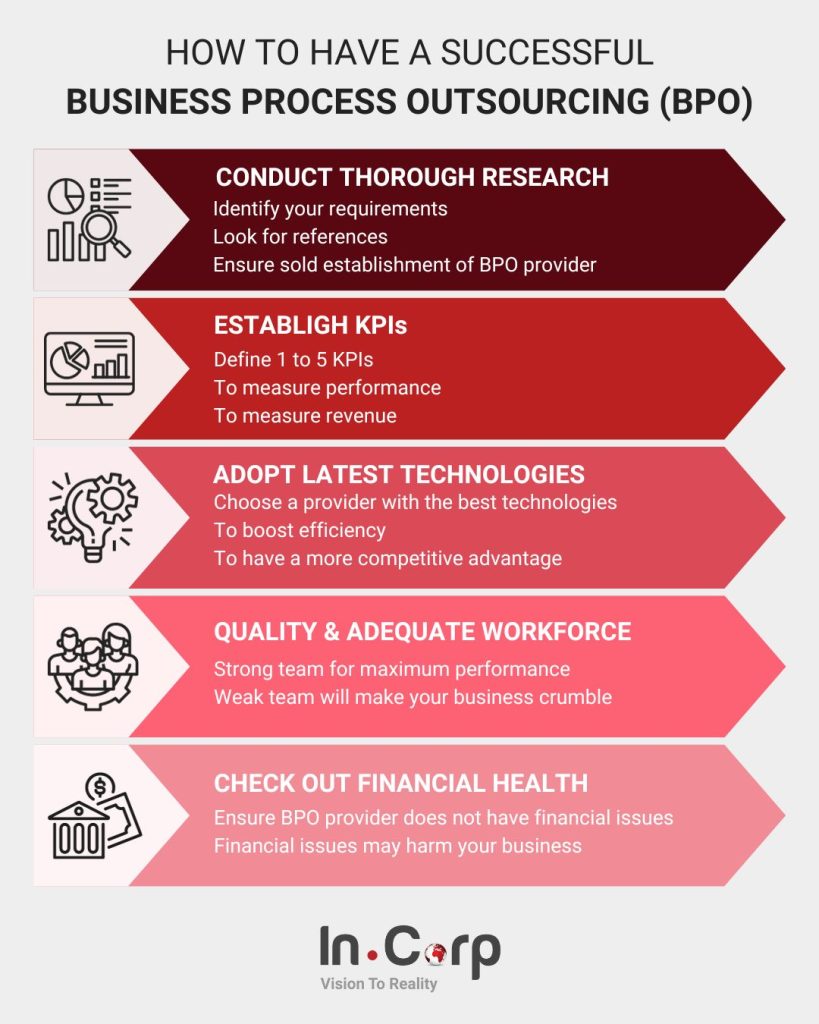 Listed below are some of the best approaches to ensure that a BPO can positively impact your business:
Conduct Comprehensive Research on BPO Providers
Before engaging with a BPO company, it's crucial to understand your specific requirements and thoroughly research the available BPO options in the market. Seek references from organizations that have previously worked with the BPO provider to assess its performance and its impact on their growth. Additionally, it's essential to gain insights into the BPO company's work culture and its establishment in the region.
Define Relevant Key Performance Indicators (KPIs)
One of the crucial factors for effective BPO is establishing specific and relevant KPIs. These KPIs serve as metrics to evaluate your organization's performance and allow you to assess the positive impact of BPO on your company's revenue and overall operations.
Embrace Cutting-Edge Technologies
When choosing a BPO partner, prioritize companies that leverage the latest and most advanced technologies. Modern technologies can significantly enhance your business's efficiency, providing a competitive edge. By harnessing these tools, your business gains the capability to develop new services and products, expanding its reach to a broader market.
Ensure an Adequate and Qualified Workforce
The ongoing success of your business hinges on having the right workforce, one that is both sufficient and skilled. Therefore, it's crucial to ensure that your chosen BPO partner possesses the workforce necessary for your specific needs. A weak or ill-suited team can jeopardize your business's performance and reliability.
Assess Your BPO Partner's Financial Stability
It's imperative to evaluate the financial health of your BPO partner. Partnering with a financially unstable and insecure BPO provider can lead to disruptions and uncertainties in your business processes.
InCorp Vietnam as Your Business Process Outsourcing Company
InCorp Vietnam, a leading global market entry services provider in the country, offers a comprehensive solution designed to streamline market entry into Vietnam. Their one-stop solution promises to make this process as smooth as possible, encompassing services such as accounting, payroll processing, recruitment, and more. Furthermore, they extend their expertise to business setup and product registration services, enhancing their BPO capabilities.
In today's fast-evolving business landscape in Vietnam, companies must adapt to rapidly changing market conditions to remain competitive. Failure to do so could leave them at a distinct disadvantage.
With InCorp Vietnam's BPO services in Vietnam, you can delegate important yet non-core business processes, allowing you to concentrate on your core functions. As a trusted BPO provider in Vietnam, they are dedicated to optimizing your business efficiency and reducing operational costs by freeing up your company's valuable resources.
Their BPO services include tax outsourcing, accounting outsourcing, payroll outsourcing, and recruitment outsourcing, making them a versatile partner in navigating Vietnam's business environment.
Conclusion
BPO offers a multitude of advantages for businesses looking to streamline their operations, reduce costs, and enhance efficiency. By leveraging the expertise of BPO providers, organizations can focus on their core competencies, accelerating growth and staying competitive in today's dynamic market.
By following best practices, businesses can forge productive partnerships with BPO providers, tapping into their expertise to drive innovation and growth. BPO isn't just about cost savings. It's actually a strategic move that empowers companies to thrive in an increasingly globalized and competitive landscape.
About Us
InCorp Vietnam is a leading provider of global market entry services. We are part of InCorp group, a regional leader in corporate solutions, that encompasses 8 countries in Asia-Pacific, headquartered in Singapore. With over 1,100 legal experts serving over 15,000 Corporate Clients across the region, our expertise speaks for itself. We provide transparent legal consulting, setup, and advice based on local requirements to make your business perfectly fit into the market with healthy growth.
Don't take our word for it. Read some reviews from some of our clients.
More on Business Blogs